(Register below for Training Made Fun Personal Trainer Workshops (NESTA PFT Certification Exam Optional) or keep scrolling to view calendar and program FAQs)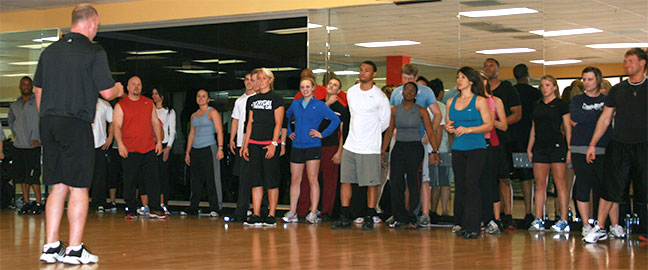 Workshop Calendar
1-First Whislte
FAQs (Please click on question to see answer)
Workshop Description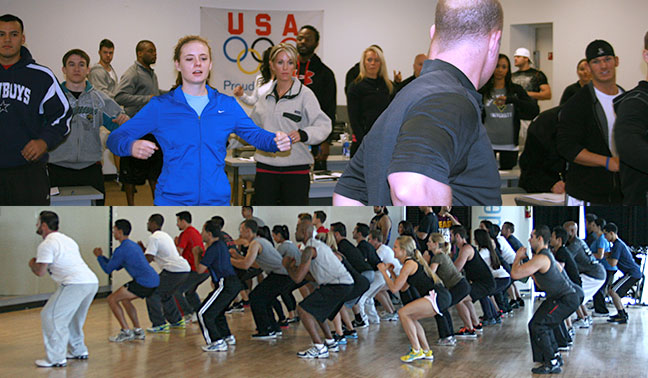 Intensive hands-on live training for personal trainers
Get certified as a personal trainer (optional) (NCCA accredited NESTA Personal Fitness Trainer Certification Exam
Purchase online or call for payment plan options, corporate rates, and military pricing (888-229-2368)
Workshops currently held in Arizona, California, Colorado, Florida, Hawaii, Illinois, Kansas, Missouri, New York, Oregon, Texas, and Washington
Training Made Fun personal trainer workshops are 2-day intensive hands on trainings with the option to also take the NESTA Personal Fitness Trainer (PFT) Certification Exam. There will be an initial focus on lecture to ensure sufficient knowledge levels in the areas of functional anatomy, exercise physiology, kinesiology, biomechanics, and program design. The second half of the weekend will involve hands-on instruction focused on functional and traditional exercise applications, usage of various equipment types and tools, and advisement on how to progress or regress each exercise. Time will also be spent on business applications for personal trainers as it does not matter how much a trainer or coach knows if that knowledge cannot be translated into personal training sales success and a strong personal trainer client base.
Additional information will be provided following registration for each workshop attendee in the form of a PDF study guide with more detailed coverage of the exercise sciences, nutrition, safety and injury prevention, sales and marketing, effective goal setting, and cardiovascular and resistance training program design.
Workshops are designed to meet the varying needs of the beginning and intermediate level personal trainer or coach. The NESTA Personal Fitness Trainer (PFT) Certification Exam is offered as an option for those who wish to become certified personal trainers. The weekend is much more than an exam preparation workshop. A majority of the content covered in the NESTA Personal Fitness Trainer Certification Exam will be covered over the course of the weekend, but the goal of exam preparation will remain secondary to the focus of teaching workshop attendees to become better personal trainers. Better trainers result in happier and more consistent clientele. Passing the exam is only the first step in the process of becoming a qualified, professional certified personal trainer.
Training Made Fun is also now offering one day continuing education workshops for the intermediate to advanced level personal trainer, or the new trainer who is ready to learn how to design detailed, efficient, and effective programs. The Advanced Program Design & Exercise Application Workshop will be a one day workshop, and each attendee will receive detailed instruction on training regressions and progressions for the individual client, as well as completed template examples and blank templates for use in creating your own client programs.
Workshop Daily Schedule
Workshop breakdown (actual schedule subject to change)
| | | | |
| --- | --- | --- | --- |
| | PFT Workshop Day 1 | Time | PFT Workshop Day 2 |
| 7:30-8:00am | Sign-In and Workbook Pick-up | 7:30-8:00am | Sign-In and Question and Answer Time |
| 8:00-8:15am | Workshop Weekend Overview | 8:00-8:45am | Flexibility Training Lecture |
| 8:15-9:15am | Business and Professional Skills | 8:45-10:00am | Resistance Training Program Design |
| 9:15-10:00am | Kinesiology and Functional Anatomy | 10:00-10:45am | Cardiovascular Training Program Design Lecture |
| 10:00-10:15am | Break | 10:45-12:00pm | Variable Tools and Training "Toys" Overview |
| 10:15-10:45am | Assessment & client evaluation lecture | | |
| 10:45-11:30am | Assessment and client evaluation hands-on | 12:00-1:00pm | Lunch |
| 11:30-12:00pm | Biomechanics Lecture | 1:00-2:00pm | Lower body exercise hands-on |
| 12:00-1:00pm | Lunch | 2:00-3:00pm | Core Training Hands-On |
| 1:00-1:45pm | Functional Training Overview | 3:00-3:15pm | Break |
| 1:45-2:45pm | Functional Training Exercise Hands-on | 3:15-4:00pm | Cardiovascular Exercise Hands-On |
| 2:45-3:00pm | Break | 4:00-4:45pm | Exercise Psychology |
| 3:00-5:30pm | Upper Body Exercise Hands-On | 4:45-5:30pm | Nutrition |
Will the workshop prepare me for the NESTA PFT Certification Exam?
Will the workshop prepare me to pass the NESTA Personal Fitness Trainer (PFT) Certification Exam?
The workshop will best prepare all attendees to pass the NESTA Personal Fitness Trainer Certification Exam, but it is expected that all attendees will be as actively involved as possible throughout the workshop weekend in order to attain the goal of becoming more effective, more efficient, and more successful professional personal fitness trainers.
You attendee must make the effort to learn – it is not the responsibility of the instructor(s) to get each attendee to pass. New trainers should spend several hours reviewing the PDF study guide(s) (sent by email the same business day registration is completed) prior to attendance at the workshop. Intermediate to advanced trainers are advised to do the same to ensure the highest likelihood of passing the NESTA Personal Fitness Trainer Certification Exam. While it is possible to come to the workshop without first looking over the material and still pass the NESTA Personal Fitness Trainer Certification Exam simply by paying close attention and being actively involved in the weekend, this approach is not generally recommended for beginning level trainers. The more of a beginner you feel that you are, the more time that you should spend going over the study guide PDF prior to the workshop itself.
The responsibility for preparation and study falls solely on the shoulders of the examinee, just as the certified personal trainer can only guide the client, not do the work for him or her. Client success is the ultimate responsibility of the client him or herself. A majority of the actual exam question content will be covered, although not specifically referenced, over the course of the workshop weekend.
Is the NESTA PFT certification designation accepted everywhere?
Is the NESTA Personal Fitness Trainer (PFT) certification designation accepted everywhere?
You will receive continuing education credits (CEUs) for NESTA, ISSA, NASM, and NSCA just by participation and attendance at the workshop. The workshop will prepare you to be a better trainer. Passing the NESTA personal fitness trainer certification exam is a rite of passage you must achieve to work as a personal trainer. No certification is accepted everywhere. Just as some major corporations will only accept degrees or qualifications from certain institutions, many gyms and fitness centers sometimes have limited acceptance policies for personal trainer certification. The NESTA Personal Fitness Trainer Certification Exam is accredited by the NCCA (National Commission for Certifying Agencies) and is widely accepted by most gyms and fitness centers within and outside the United States. If you are set on working for a particular institution, it is advised that you investigate whether there are certain designations that are or are not accepted by that company. It is our belief that the company you wish to work for should accept whichever valid certification or exercise science degree program you have gone through, and then assess your ability to fit with the company rather than based purely on the exam you passed. You will learn a great deal of valuable information at the Training Made Fun instructed NESTA Personal Fitness Trainer Certification workshop. Where you go from here is up to you.
How challenging are the workshop and review of the study guides?
How easy or challenging is it to learn the accompanying study material found in the study guide PDFs and to be able to follow and understand the information provided throughout the workshop weekend?
Much of the training and information is easy to understand, implement, evaluate, and reassess. Some information will require thoughtful insight and research beyond the hours of the workshop weekend. There will always be much to learn, just as everyone has something to teach of value. It is better to come with expectations of high level challenge and to be surprised that the information comes quite easily, than to come with the expectation that the workshop will be a "piece of cake" and be greatly surprised by the depth and quality of research and information provided.
Follow the guidelines as laid out on this website, and you will perform just fine. Our professional instructors take it personally when you don't learn the concepts or perform well as a future personal trainer. We will do our best and we expect you to do the same. And we will do all that we can to make the weekend just as fun and interesting as it may or may not be challenging.
Regarding transferable credits to other institutions of learning
Is the workshop valid for any continuing education credits from other personal trainer certification organizations or higher institutions of learning?
At this time, the Training Made Fun Personal Fitness Trainer Certification Workshop is valid for 1.6 CEUs for NESTA (National Exercise & Sports Trainers Association), NASM (National Academy of Sports Medicine), NSCA (National Strength & Conditioning Association) and 16 CECs for ISSA.
Workshop rates, special pricing or payment plans
What are the workshop rates and do you offer special pricing or payment plans?
If you are currently an employee of 24 Hour Fitness, LA Fitness, Gold's Gym, Equinox, In Shape Fitness, Crunch Fitness, Town Sports International(TSI)/Sports Club, Fitness 19, Workout World, Sports Club LA, Bally Total Fitness, XSport Fitness, Total Woman, Lady of America, Wellbridge, Lifestyle Family Fitness, Lifetime Fitness, Five Seasons Sports Clubs, or Spectrum Athletic Clubs you qualify for the workshop/exam corporate rate. Call 888-229-2368 to register for this special corporate rate pricing. You will be required to name the club location, the name of your current fitness manager, and state your employee number (if you have one) at phone registration. You can also use the corporate code given to you by your company or the company referring you, if they are at one of the organizations listed above, to make your discounted purchase online.
PFT Workshop Regular Rates
Workshop Only ($299)
Workshop Plus Exam ($539) (Link discount provided for exam following workshop only purchase)
When you make your purchase online, you will first purchase the workshop only ($299), and then have the option to select the NESTA PFT Certification Exam ($240) following your workshop purchase. Following your payment for the workshop, you will receive a link (immediately, within minutes, by email) to pay for the discounted exam that is unique to you and cannot be used by anyone else.
If you are not currently employed or referred by one of the above organizations, your cost will be $539 workshop/exam and $299 workshop only. Workshop only purchase includes the two emailed study guides, 2-day workshop, and workshop workbook received onsite at the workshop. Workshop and exam also includes the NESTA PFT Certification Exam and 12-month online access to the full NESTA PFT Manual. You may register online here or you may call us at 888-229-2368.
Payment plans are only available by calling Training Made Fun at 888-229-2368 and requesting payment plan options.
Please note that the rates mentioned above are only available for those who register in advance. Showing up at the workshop location in hopes of registering may not be possible depending on the number of prepaid registrants, and all walk-in registrants will be required to pay the late walk-in fee of $569. All workshop attendees are encouraged to plan ahead and register early for the workshop. Registering earlier will allow you more preparation time.
Many try, but no one can tell you how much time it will take to prepare for your certification exam. We recommend at least 5-10 hours of preparation using our study guide PRIOR to the workshop for those who have some experience with the exercise sciences (kinesiology, physiology, biomechanics, etc.). The workshop itself will give you 16 hours of intensive, interactive in-person study that will be worth far more than the same time spent studying and preparing on your own. It isn't about time spent in preparation and study, it's about quality time spent in preparation and study, and we provide this as well or better than anyone else.
What will I receive following my registration payment?
What will I receive following my registration payment?
Confirmation email with further details on the workshop, hotel, and travel information
Personal Trainer Study Guide(s) (PDF) (within or attached to confirmation email) with information on:

Exercise sciences (anatomy, physiology, biomechanics, and kinesiology)
Nutrition
Assessments
Safety and injury prevention
Program design
Business (sales and marketing) skills

Workshop workbook (to be picked up the morning of Day One at the workshop) to be used as a guide and reference throughout the weekend
What should I bring with me to the workshop?
What should I bring with me to the workshop?
Pen or pencil for note taking (notepad is optional as a workbook will be provided for all attendees
Government issued identification with photo (U.S. Driver's License, U.S Passport, or U.S. military ID only accepted.
Water and snacks as necessary for two full-days of learning (highly recommended!)
What is the refund, transfer, or attendee exchange policy?
What is the refund, transfer, or attendee exchange policy?
Full refunds are granted 15 days or more prior to your originally scheduled workshop.
No refunds will be given where cancellation occurs within 15 days of any originally scheduled workshop (regardless of timing of purchase). However, with prior notice (failing to show up without prior notice releases all possibility for transfer), transfers to future workshops may be granted when space is available.
Attendee name transfers are not allowed within 15 days of the workshop, but will otherwise be granted upon written request from the paying party.
What do I do if I have additional questions or concerns?
What do I do if I have additional questions or concerns?
Call Training Made Fun support directly at 949-681-8064 or toll-free at 1-888-229-2368.
You may also email us at support@trainingmadefun.net.
Phone calls and emails will usually receive responses within minutes, and never longer than one full business day.
Office hours are 9am to 4pm PST (Pacific Standard Time) Monday through Friday (excluding major holidays).
Contact information will be provided for registrants needing responses between the end of business Friday and the morning of the workshop.