Action-Packed Live Education to help you get Certified as a Personal Trainer (NESTA, NASM, NSCA, and ISSA CEUs)
Quote of the Day:
"If you are insecure, guess what? The rest of the world is, too. Do not overestimate the competition and underestimate yourself. You are better than you think."
(Timothy Ferriss, "The 4-Hour Work Week")
Today's Training Tip:
How do I build core strength and power? Strength comes first from stability. Think vertical core. Can you perform the same strength exercise you perform seated with good posture either kneeling or standing? The ability to maintain spinal neutral under compressive loads is crucial, or you will never maximize power and minimize injury. Too much time is often spent lying down to train the core (not bad, just not long-term optimal). And power training does not necessarily require power cleans and snatches. Jumping rope and hill running can train great strength, speed, and power. And these forms of training are self-teaches, if you will. You cannot jump rope or run hills (avoid downhill running until you are very adept at uphill AND flat land running) quickly without good posture and good technique. And you will build both endurance and explosiveness from both (jumping rope from two legged and one legged stances, and running hill repeats). Both are lesser impact than flat land running, yet provide the necessary compressive forces to obtain optimal core strength and stability preceding power. This may make these forms of exercise either great forms of cross training, or ways to build stamina, strength, and power, in addition to other forms of training. Don't negate that form of training you enjoy, simply seek to upgrade your workouts when possible.
Live Training for Personal Trainers (Certification or CEUs)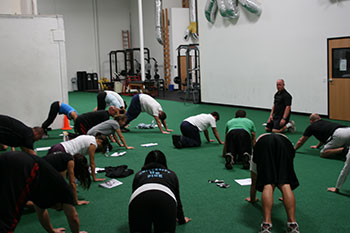 Yes, you can get certified as a personal fitness trainer in only one weekend. No, this is not the end of your education. This is only the beginning, or another step toward mastery. And oh what a beginning it will be!

Training Made Fun is a sports and fitness training company focusing on the education and professional development of personal trainers, fitness instructors, and athletic coaches. The first step is obtaining personal trainer certification. We know that it isn't how much you know, or how many degrees or certifications you have, but what you can do with what you know that matters most in personal training. Getting certified gets you the minimum education requirement for working as a personal trainer. The education you receive during the process of the workshop weekend will astound you.
There can be no such thing as too much education or knowledge. And there can be no such thing as being too fit or too athletic. But knowledge without proper application is useless, and being obsessive about fitness or athleticism often results in illness, injury, or chronic overtraining. At Training Made Fun, it is our goal to help the personal training experts and the individuals our experts coach and train to see the fun in training and working out. Training and working out are only fun and enjoyable if everyone has the necessary information, knows how to use and apply the information, and modifies each individual program intelligently and consistently toward continual progress.
This process is not easy, however, it is fun.
Training Made Fun is authorized by NESTA to offer 2-day personal fitness training workshops with an option to challenge the NESTA Personal Fitness Trainer Certification Exam and become a certified personal trainer and/or to receive continuing education credits (1.6 NESTA, NASM, and/or NSCA CEUs). You can come to the workshop to get certified by NESTA, or you can come to simply learn more about the science and application of personal training than you ever thought you could receive in a single weekend. Your possibilities are endless, but you must first show up and take in all that you can.
"Work is doing what you must. Play is enjoying what you do."
Learn more or sign up on the workshops page.